Did you know that getting your Bedford Hills roof cleaned preserves the life of your roof?
Getting your roof soft washed removes algae, grit, grime, black streaks,  mold, mildew, moss, and soot. Soft roof washing also restores your roof's color and appearance. Roof washing is important for homes in humid environments such as Westchester, Putnam, and Dutchess County, N.Y.
Westchester Power Washing is the leading home exterior soft washing and pressure washing company in Westchester, Putnam, and Dutchess County.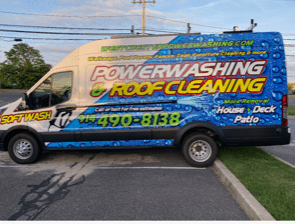 We have washed more than 18,000 homes since 1990. Our home exterior cleaning experience is well beyond those of our competitors and we are committed to serving our customers with the best cleaning practices in the industry.
Peter Salotto, owner and founder of Westchester Power Washing is a retired police officer who has been washing homes since 1990 when he started the business while a police officer serving the community. Peter has more than 32 years of experience and is the one who comes to your home to give you the free estimate and provides the home soft washing and pressure washing services.
FREE ESTIMATES ON GETTING YOUR ROOF WASHED, HOUSE PRESSURE CLEANING, SIDING, PATIOS, DECK, WALKWAYS, STAIRS, AND FENCES CALL OR TEXT (914)490-8138
When it comes to home pressure washing, let the homeowner beware!
The pressure washing business has many inexperienced pressure washers offering extremely low prices and extremely poor services that can lead to damage to your home, roof, siding, patio, deck, or landscaping. This can end up costing you more money than the price they charged to damage your home. This means you pay for a poorly done job and for the repairs to fix the damage.
It gets worse!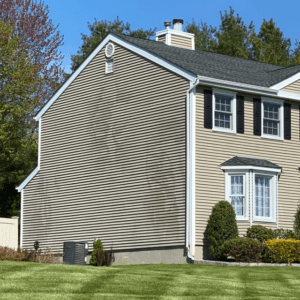 The extremely high pressure emitting from their pressure washing machines dents your siding and forces water between your siding and house. This high water pressure has the potential for mold and mildew growing there and ultimately on your interior walls leaving your family and pets inhaling mold which can lead to deadly respiratory problems.
This is why Westchester Power Washing uses our soft washing system to gently spray your siding with the right amount of cleaning solution to get your home and siding clean without causing damage or forcing water in between your siding and walls.
---
Do you want to be scared, pardon us, we mean informed some more about the risks of hiring the wrong pressure washing crew?
Most pressure washing companies are not insured. This means if they damage your home or someone gets hurt, you may very well be the one having to pay for the damage to your home, their medical bills, and loss of wages! Oh yes, we left off your attorney fees and possibly their attorney's fees as well.
Westchester Power Washing is fully insured and carries worker's compensation and liability insurance specifically for home exterior pressure washing. 
Yes, we pay a rather costly insurance premium but we know it is the right thing to do to protect you, us, and our home exterior cleaning experts in case of accidents as they do happen. Fortunately, they rarely happen with our level of experience but we do not believe in leaving safety and liability to chance.
By the way, we recently equipped our home exterior cleaning vans with brand new, state-of-the-art self-contained soft washing systems and separate pressure washing systems. 
This way we are able to regulate the exact amount of water pressure, water temperature, and cleaning solution needed to get your home professionally cleaned. In addition, this allows us to work with less equipment being dragged around your home and property avoiding any damages related to that process used by other pressure washing companies.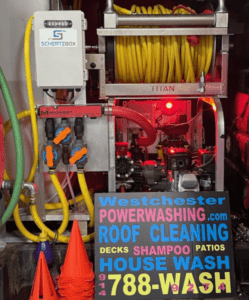 We enjoy home exterior washing and invest in our company to make sure we are always offering the best service and the best value for your customers. As a retired police officer, Peter understands the need for planning ahead and getting the job done properly as he sees himself and Westchester Power Washing serving the community while also being a business he is proud of owning..
So now that you have learned more about Westchester Power Washing and our home exterior cleaning expertise, process and values, we want to make sure you know why it is critically important to get your roof soft washed on a regular schedule or sooner when needed.
---
Here are 8 reasons every homeowner should know about residential roof washing and why it is important to get your roof washed regularly:
Roof washing requires skill, is dangerous and improper roof washing can damage your roof, shingles as well as your home's interior. Do not do it yourself.

Roofs are best cleaned with a soft wash system such as the one used by Westchester Power Washing..

Moss and algae can cause severe damage to roof shingles making your roof less efficient and needing your roof to be replaced sooner.

Debris nor dirt has to be seen from the ground to be severe enough to damage your roof and void your roof warranty. This is why Westchester Power Washing looks on top of your roof to get a more effective view.

Roof washing is cheap compared to replacing your roof. Roof replacement can cost 10x as much as roof washing.

Roof washing is a valuable investment for curb appeal and your home's resale value.

Roofs in need of cleaning are less efficient so they tend to raise your electricity and heating costs.

 Home Insurance companies are known to cancel homeowner's insurance policies for dirty roofs as they appear to need extensive repair.
To protect your investment in your home, its appearance, condition, and appraised value, roof washing along with home exterior pressure cleaning are critical.
Roof Soft Washing Is Not A DIY Job
Don't assume you can rent a pressure washer and wash your roof on your own. There are many reasons why properly cleaning your home's roof is not a Do It Yourself job. Below are some of those reasons:
Balancing on a roof is dangerous. Standing on a roof, flat or sloped, with a pressure washer is difficult. Many DIY roof cleaners and handymen fall off the roof and some through the roof. Falling off a roof can result in serious injury and even death.

High-pressure washing will damage your shingles and may result in needing to have your roof replaced. Plus, your shingles may come loose in high winds and strong storms. Spraying shingles from below can result in dangerous splatter.

A proper and thorough roof washing takes expertise. Reaching dirt, moss, mold, mildew, lichens, and debris hidden between the cracks and crevices of roofing shingles requires experience. Youtube videos on "how to clean roof shingles" will not make you an expert nor save your roof from getting damaged. As professional pressure washers, Westchester Power Washing knows how to clean around chimneys, vents, and flashing, without causing damage.

Westchester Power Washing knows the right detergent to safely and properly clean your roof. You can damage your roof and the toxic chemicals also damage your health, pets, foliage, and house.
For these reasons, leave the roof washing to Westchester Power Washing. 
How Does Westchester Power Washing Get Your Roof Washed?
We use a soft roof washing system which is a low-pressure rinse to remove dirt. This pressure is slightly stronger than a garden hose with a spray nozzle. Low-pressure rinsing won't loosen old, brittle roofs and won't wash away damaged granules along their surfaces. 
Moss and Algae Damage Roofs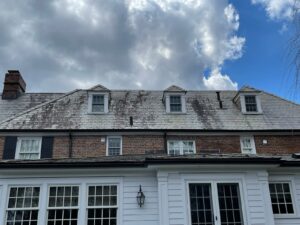 Moss and algae are especially damaging to a home's roof. They hold extra moisture against roof shingles and roof paper; this added moisture causes shingles to get soft and crumbly and can cause roofing paper to tear, leading to water leaks.
Unlike other debris on a home's roof, moss, algae, mold, and mildew continue to grow over time. These contaminants can work their way under a home's roofing shingles and eventually dislodge those tiles as they continue to spread. Never assume you can ignore moss, algae, and other such growth on your roof. Overlooking needed roof washing can lead to damaged roof and interior water leaks.
Don't Wait Until Algae and Other Debris Are Visible to Schedule To Get Your Roof Washed and Cleaned
A homeowner should never wait until they see lines of algae or moss along roofing shingles or roof edges to schedule power washing for their home. Note why that is, and when you should have your home's roof washed:
Algae, moss, mold, and mildew grow best in damp, dark spaces, away from air and sunlight. For a residential roof, these spaces are typically under and around roofing tiles and shingles, in areas unseen from below or during casual visual inspection.

Once algae and other such debris begin to form, they will grow and spread, dislodging and softening roofing tiles. The more humid the environment, the faster these contaminants will increase so that a roof then suffers quite a bit of damage in a short amount of time.

Consistent washing of a roof will remove wet leaves, twigs, seeds, and other debris that can cause algae, mold, and other contaminants to grow in the first place! Regular power washing can then prevent damage to the roof and ensure it always looks its best.
FREE ESTIMATES ON GETTING YOUR ROOF WASHED, HOUSE PRESSURE CLEANING, SIDING, PATIOS, DECK, WALKWAYS, STAIRS, AND FENCES CALL OR TEXT (914)490-8138
Our Other Websites Include: