Pressure Washing Patios and Walkways has made Westchester Power Washing famous.
Pressure washing patios and walkways is key to maintaining your home's value. There are lots of different types of concrete/masonary surfaces that we clean. This includes:
Stone Walkways
Pool Brick Pavers
Slate Flagstone Walls
Bluestone including front/rear porches, stoops,concrete walks and driveways etc.
Brick Patios
Each of these surfaces typically grow moss, mildew, algae, dirt and other bacteria. By the way, a dirty or stained walkway or driveway can diminish the look of your home. Therefore, pressure washing it can restore your home's look. Furthermore, your homes curb appeal and value is enhanced.
Cement patios and walkways is one of the hardest surfaces to clean around the house.
In order to clean any stone surface, we use a professional powerwasher and cleaner for cement/concrete surfaces. Westchester Power Washing pressure washes patios, cleans concrete and driveways. As well as, sidewalks, walkways, patios, porches, and pool deckings. Our licensed and insured pressure washers ensure your concrete and cement are cleaned correctly.
Concrete walkways and patios can be sealed with a waterproof sealant. This protects further damage and reduces the need for future cleanings. Sidewalk cleaning and concrete surface powerwashing is a good service to consider with any house or deck pressure washing estimate.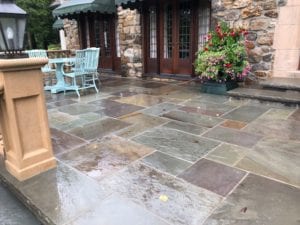 Boosting curb appeal as well as your home's value, has been one of our main goals since we started over 30 years ago. Furthermore, our expertise as a pressure washing business comes from cleaning more than 18,000 brick, stone and slate patios walkways and pool cement surfaces.
Our experience helps us give you what you want. A clean home. Clean roof. Clean patio and Deck. As well as prtoected grass, plantings, mulch, and flower beds.
Westchester Powerwashing is the leader in the soft roof washing, pressure cleaning patios, and wood deck washing industry. This includes Westchester, Putnam and Dutchess County, NY.
"Green" Pressure Washing Patios Process
We use eco-safe solutions for cleaning wood, brick, stucco and concrete. Our solution is phospate-free and enviromentally friendly.
We carefully pressure clean every crevice of your home's walkway. We wash away the algae and weeds that sprout up between the concrete.
First impressions count. Hiring a local, environmentally conscious pressure washing company like Westcherster Power Washing makes all the difference in your home's entryway.
Contact our expert concrete and wood pressure washers for a free on-site consultation and estimate by calling or texting (914)490-8138.
Home Exterior Cleaning Services:
Soft Roof Washing & Shampoo Cleaning
Siding Pressure Cleaning
Patios, Walkways and Deck Pressure Cleaning
Outdoor Furniture Pressure Washing
Before & After Pressure Washing Photos
About Westchester Power Washing
Contact Westchester Power Washing
Our Other Websites Include:
Westchester Power Washing
Power Washing Westchester
Roof Washing NY
Pressure Cleaning Westchester
Westchester Pressure Cleaning
Westchester Roof Washing