Vinyl Siding Pressure cleaning is an art. Westchester, Putnam, and Dutchess counties are our canvas.
For more than 30 years, Westchester Power Washing is the premier, trusted soft roof washing, and soft siding pressure cleaning company for vinyl and wood homes in Westchester, Putnam and Dutchess County, New York. Our home exterior pressure cleaning clients call us to clean the algae, mold, black streaks, and grime from their roof, siding, and home.
Your vinyl-sided house is susceptible to many environmental effects. Vinyl siding facilitates the growth of mildew, fungus, and mold. This is a problem for Westchester, Putnam and Dutchess County homes. So it is important to annually pressure wash and clean your vinyl siding.
Westchester Power Washing is owned and operated by a pressure cleaning and soft roof washing expert, Peter Salotto. Peter is a retired NY Police Officer who has washed more than18,0000 homes since 1990. Our careful vinyl home pressure cleaning estimates and pressure wash treatments leave us uniquely qualified to help you maintain your home's value.
Quality pressure washing and vinyl siding pressure cleaning is our expertise.
Power washing of a vinyl house is a great way to restore and bring back the new look of your home. Therefore, we suggest you have your home washed annually to protect its value, curb appeal and enjoyment.
Westchester Power Washing is a professional service with over 30 years of experience. Furthermore, we are the foremost experts on cleaning the exterior vinyl siding of houses. Powerwashing vinyl siding has become our main focus & specialty offering timely, trusted, and quality customer service. Also, we are experts in soft roof washing and roof shampoo.
What's involved in the vinyl siding pressure cleaning process?
Exterior pressure cleaning services consist of free estimates for power washing vinyl or any other exterior surface in need of a powerwasher.
When we wash vinyl-sided homes, we apply a "wet wax" in our house wash solution, which lets homes stay cleaner for a longer time. This is important as humidity creates bacteria. In addition, mold, mildew, moss and fungi grow in humid environments.
Afterward, we pressure wash the home clean. Furthermore, we thoroughly analyze the job for any leftover mold and grime on your home's surface.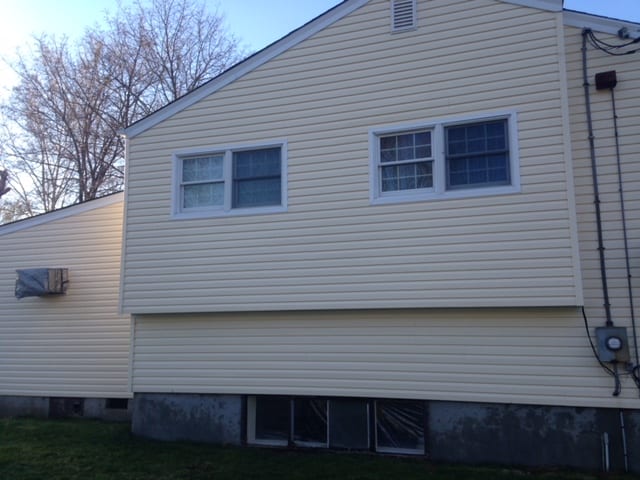 Our most popular pressure washing service is house washing of vinyl siding.
According to the Vinyl Siding Institute, a house washing should be done yearly.
Furthermore, part-time handymen, landscapers, painters, and "weekend warriors" may offer "cheap" services, the home exterior cleaning is usually poorly done. As well as, they often damage the home by using high pressure instead of soft washing the home. In addition, the damage done to your house is often more than thousands of dollars in repairs. Moreover, hot water can warp your vinyl siding and using too much pressure can rip or break your siding.
In addition, we use a safe and effective soft-wash method to eliminate your home exterior from mold and mildew. High-pressure washing can damage your siding.
We use safe and effective detergents to leave your home looking and smelling clean.
Our home pressure cleaning treatments:
Removes all green and black mold from any type of siding using mild detergents.
Gentle process and most jobs are done same day and often in a few hours depending on the size of the work.
We also are experts in soft roof washing and cleaning.
Call Westchester Power Washing. The experts in soft roof washing and vinyl siding soft pressure cleaning are Westchester Power Washing- (914)490-8138
Home Exterior Cleaning Services:
Soft Roof Washing & Shampoo Cleaning
Siding Pressure Cleaning
Patios, Walkways and Deck Pressure Cleaning
Outdoor Furniture Pressure Washing
Before & After Pressure Washing Photos
About Westchester Power Washing
Contact Westchester Power Washing
Our Other Websites Include:
Westchester Power Washing
Power Washing Westchester
Roof Washing NY
Pressure Cleaning Westchester
Westchester Pressure Cleaning
Westchester Roof Washing