Since 1990, I have pressure washed more than 18,000 homes throughout Westchester, N.Y. This includes cleaning roofs, siding, decks, patios, walkways, driveways, stairs, fences, and outdoor furniture in Armonk.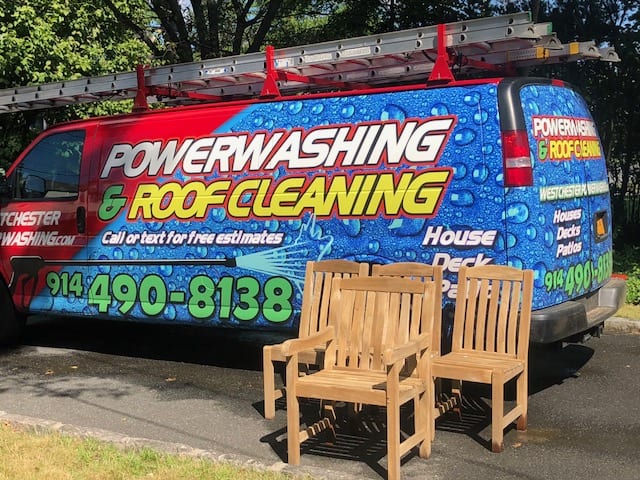 At Westchester Power Washing, we clean all surfaces including slate, asphalt, and cedar roofs, bricks, tile, concrete, wood, stone, asphalt, pavers, Bluestone, Flagstone, composite, Trex, Timber Tech (pressure treated, cedar, mahogany, and all other wood deckings), teak tables and chairs, fences (wood and PVC).
For your protection and ours, we carry liability and worker's compensation insurance. Most roof washing and pressure cleaning businesses in Westchester, Putnam & Dutchess County are not properly insured for pressure cleaning homes. If they have an accident, you can be sued. We also use eco-safe products to clean and remove moss, mold, mildew, lichens, black streaks, bacteria, and fungi from your roof and home.
When you are ready to get your home professional pressure washed in Armonk, call or text me at 914-490-8138 for a free estimate or to book an appointment.
– Peter Salotto- owner, Westchester Power Washing
So how did I get into the Armonk residential pressure washing business?
I enjoy being outdoors and enjoying being home in Westchester County. When I see a dirty roof, dirty driveway, patio, deck, siding, walkways fencing, I like pressure washing them to see them transform immediately. Many times, after pressure cleaning siding, decks, patios, walkways, and soft washing roofs, it still amazes me how they look almost new.
I have been pressure washing homes and shampooing roofs in Armonk for more than 30 years. I was even pressure cleaning while I was serving as a police officer. Even though I am now retired from police work, I still love the outdoors, and home pressure washing.
Pressure washing is hard work. It is tiring. And it is extremely busy and hot in the summer.
These are some of the reasons why you should not pressure wash your own home. Leave it to me. Pressure washing may look easy but you can damage your home, your roof, your landscape, your windows, woodwork, and siding. You can also get hurt. The pressure washing equipment is very strong and many homeowners have fallen off their roof when they should not have been on the roof in the first place.
EXPERIENCED & INSURED